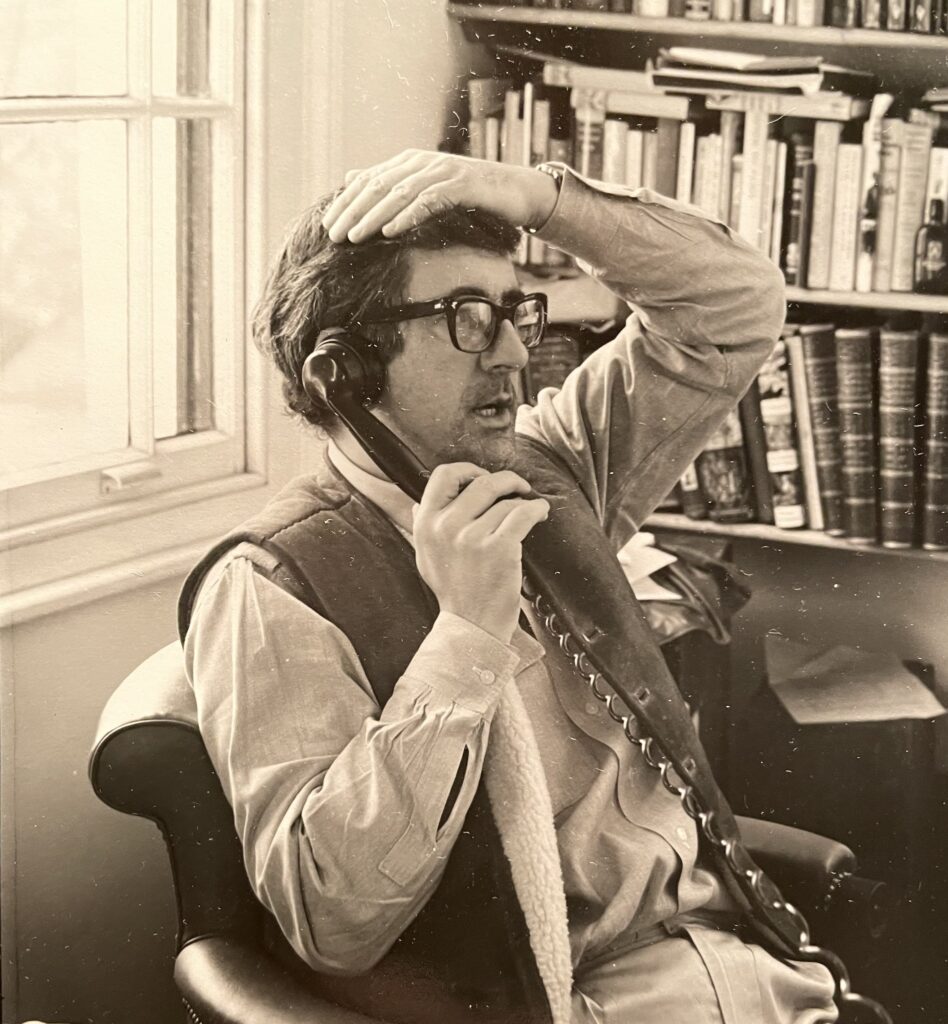 Having met while both were in the Royal Air Force in the late 1940's, Adrian Flowers and Len Deighton (b.1929) became close friends. Over the years, as Deighton's career as illustrator, novelist and cookery writer evolved, Flowers photographed him many times. The photographs in the Adrian Flowers Archive range from personal family shots, to publicity photos, to images of Deighton pursuing his favourite occupation, cooking. The earlier photographs were taken in Deighton's council flat at Elephant and Castle, before he and his wife Shirley moved to a more stylish Georgian house off Borough Road, where they were better able to entertain friends. There are also family snapshots, taken when Flowers visited Deighton's home in Blackrock, a coastal village in Co. Louth, Ireland. Deighton later moved to the Channel Islands, where he still lives. Another set of photographs show Deighton standing in front of a Heinkel 111 aeroplane and were part of the promotion for Bomber his novel recounting a night raid by the RAF over Germany.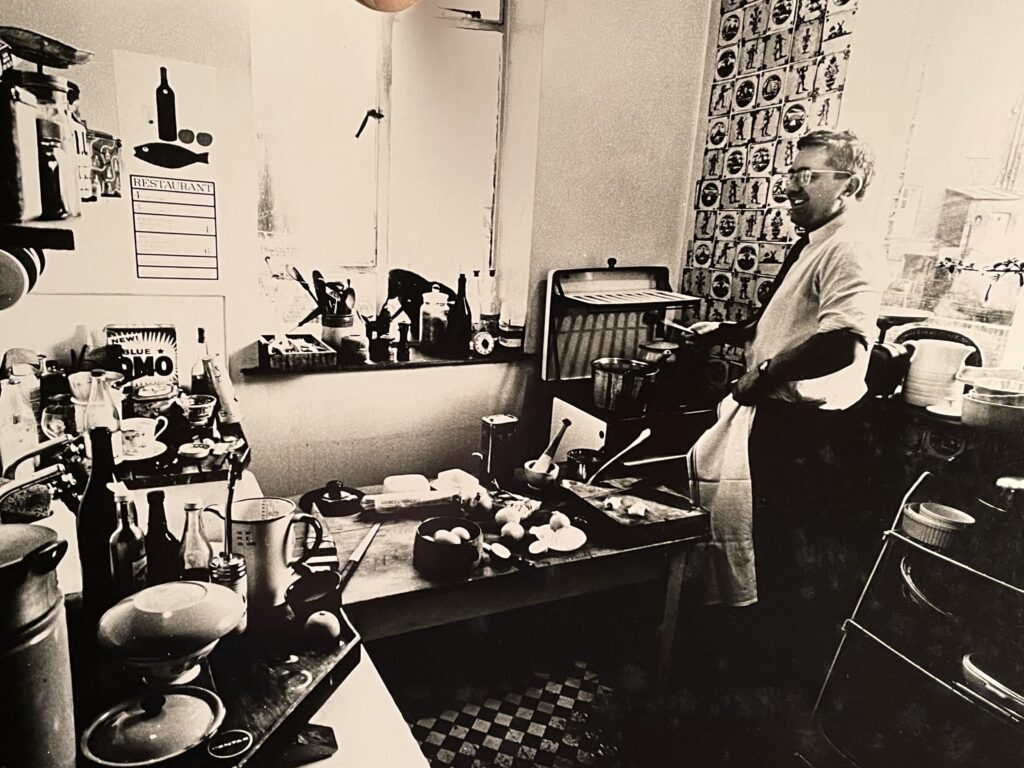 The son of a chauffeur and a cook, Len Deighton was born in Marylebone and grew up in Gloucester Place Mews, a narrow street in central London, between Marble Arch and Regent's Park. In 1947, he enlisted for two years' national service with the Royal Air Force, training as a photographer with the Special Investigations Branch. During this time he met Adrian Flowers, who also training as a photographer with the RAF. After completing his military service, Deighton enrolled at St. Martin's School of Art and in 1953 won a scholarship to the Royal College of Art, where he and Raymond Hawkey—who was to become a lifelong friend—edited the college magazine Ark. A decade later, in an interview for Town magazine, journalist Jane Wilson wrote about Deighton's student days: "As an art student he took the then revolutionary step of illustrating Ark with photographs and was generally known as 'The Photographer'. Students at RCA are now so cool they can hardly stand up, and so mod they can hardly sit down. Ark is so avant-garde it's inexplicable and so design-conscious you can't read the sans-serif. But in Deighton's day life was more gracious and students tended to wear dark suits. So to be called a photographer was like being called a garage mechanic." [Jane Wilson "How to Succeed without Really Spying", Town, April 1965, Vol 6, No. 4, p. 43] Notwithstanding Wilson's reservations, Hawkey became renowned for his use of bold graphic images and san serif fonts, and is best remembered today for his cover designs for the James Bond novels, published in the 1960's by Pan. After graduating from the RCA in 1955, Deighton also designed book covers, among them the first British edition of Jack Kerouac's On the Road.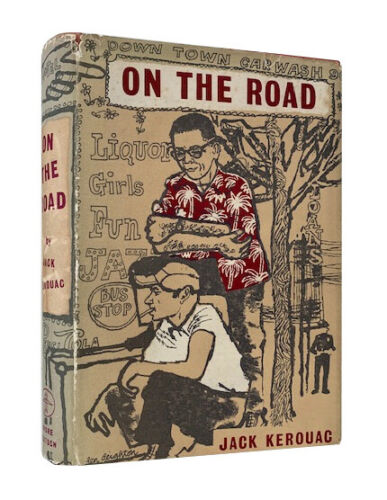 Coming from a working class background, Deighton could easily identify with Kerouac's hero Moriarty, and his jacket design, with its references to jazz and American culture, is very much in the spirit of the times. During his time at St. Martin's, Deighton lived at Moor Street, close to Cambridge Circus, and occasionally stayed at Flowers' maisonette in England's Lane. In 1960, Deighton and a fellow-illustrator Shirley Thompson were married. In 1961, having been appointed head graphic designer at the Observer, Hawkey commissioned Adrian Flowers to take photographs for the magazine's cover and the following year he commissioned Deighton to produce a series of cartoon-like "Cookstrips" for the Observer. In making the recipes of Catherine David and other chefs accessible to a wide audience, Deighton's series was a great success and ran for four years. His cover for Kerouac's novel and the Cookstrips are similar in style­­, combining hand-drawn bold fonts with simple graphics. The style is direct, modern and easy to understand.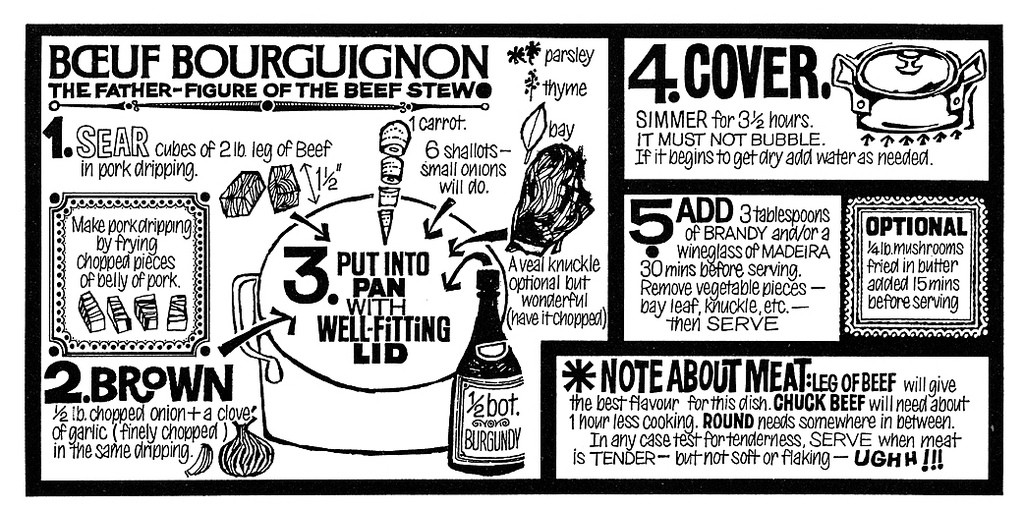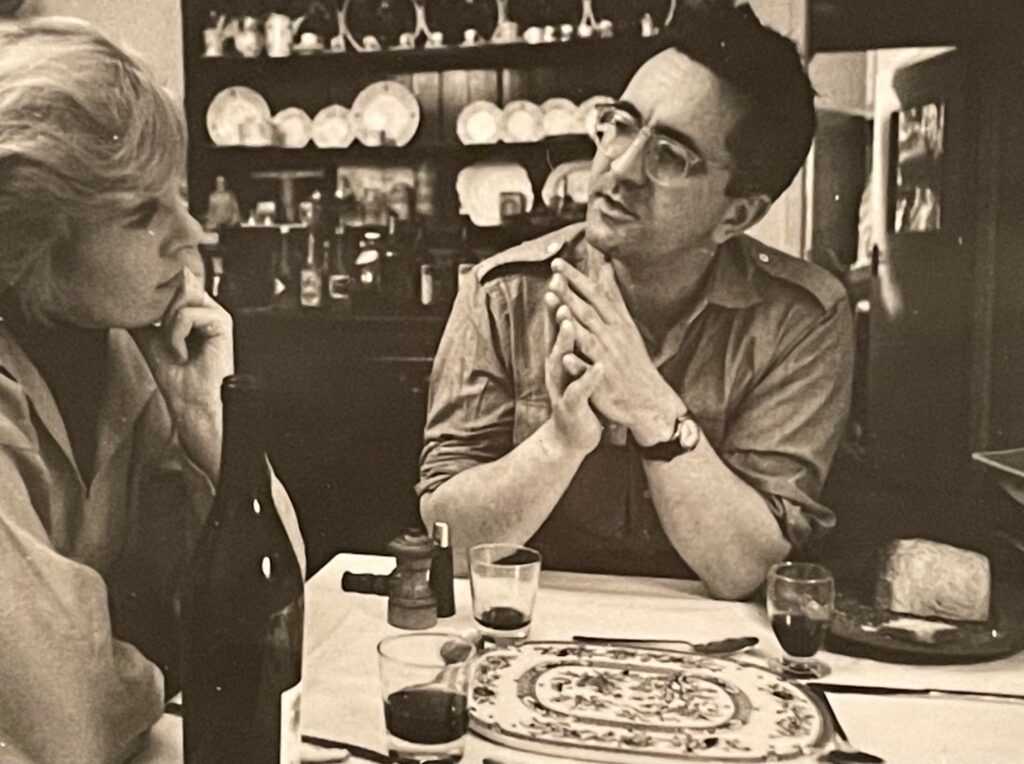 In 1962 also, Deighton's first novel, The Ipcress File, was published. Largely based on Deighton himself, the hero Harry Palmer was working-class, cynical and tough. However, this cocky spy, from Burnley in Lancashire, was also an unexpected aesthete, a devotee of fine French cookery and classical music. These things mattered to Deighton. In real life, while working in London's advertising world, he had been one of the few in his agency not educated at public school. In contrast, Adrian Flowers, always impeccable in shirt and tie, had attended Sherborne School in Dorset. As a novel, The Ipcress File is less about espionage than an exposé of the British class system, which at that time was undergoing one of its periodic convulsions, with ambitious working-class youngsters laying siege to the bastions of the establishment. Although Deighton often modelled his characters on people he knew, in The Ipcress File, Adrian Flowers does not seem to make an appearance. In making a star of the young Michael Caine, the film version of The Ipcress file confirmed Deighton in the public eye as one of the great spy story-tellers of his day. Caine's portrayal of Harry Palmer is perfect, right down to the dexterous slicing of green peppers and onions, as he prepares a meal in his flat for Jean (Sue Lloyd). The kitchen is furnished with cafetieres, copper saucepans from Madame Cadec's, and—in a neat touch—copies of Deighton's Observer cookstrips, pinned to the wall.
The early photographs of Deighton taken by Adrian Flowers are gritty, with strong contrast between black and white. Standing the kitchen of his flat in Elephant and Castle, Deighton, wearing white shirt and tie, tea-towel tucked in his waistband, brandishes a frying pan with gusto, as he holds court. The kitchen is a clutter of mortar and pestle, eggs, enamel jugs, spoons, knives. On the table, a cutting board, onions, lemons, a tin of olive oil and packets of herbs labelled 'Aromes de Provence'. On the window sill behind, a bottle of cider vinegar and a clockwork timer. On a counter near the camera, the lens cover for a Pentax camera. Behind it a blowtorch—presumably for crème brulee—and a large stockpot. In another photograph, taken on a different occasion in the same kitchen, Deighton demonstrates the single-handed cracking of an egg into a bowl, echoing Michael Caine's cooking skills in The Ipcress File. In these photos, Deighton wears a khaki military-style shirt. The walls of the kitchen are white—in the first series, they are decorated with reproductions of Dutch tiles. On the windowsill is a railwayman's lantern, an artefact clearly of significance for Deighton, perhaps a momento of his father's or grandfather's occupation or military service. On the wall above the cooker hangs a bouquet of bay leaves. On the windowsill—wonder of modern wonders—an electric blender. In these photographs, Deighton wears an apron printed with Victorian woodcut images of men. His tie tucked into the khaki shirt, he peers quizzically at the camera, seemingly nervous in the presence of the photographer. Again, a shot taken in the dining room of the flat, standing at the door beside a Welsh dresser laden with willow pattern ware, Deighton makes a nervous gesture with his arm, while his wife Shirley, smiling and relaxed, reclines in a Thonet rocking chair in her stockinged feet. On top of the dresser the old lantern still has pride of place. Other photographs show the table decorated with flowers, fine china cups and plates. Deighton sits at the head of the table, holding a restive cat. He seems permanently wound up.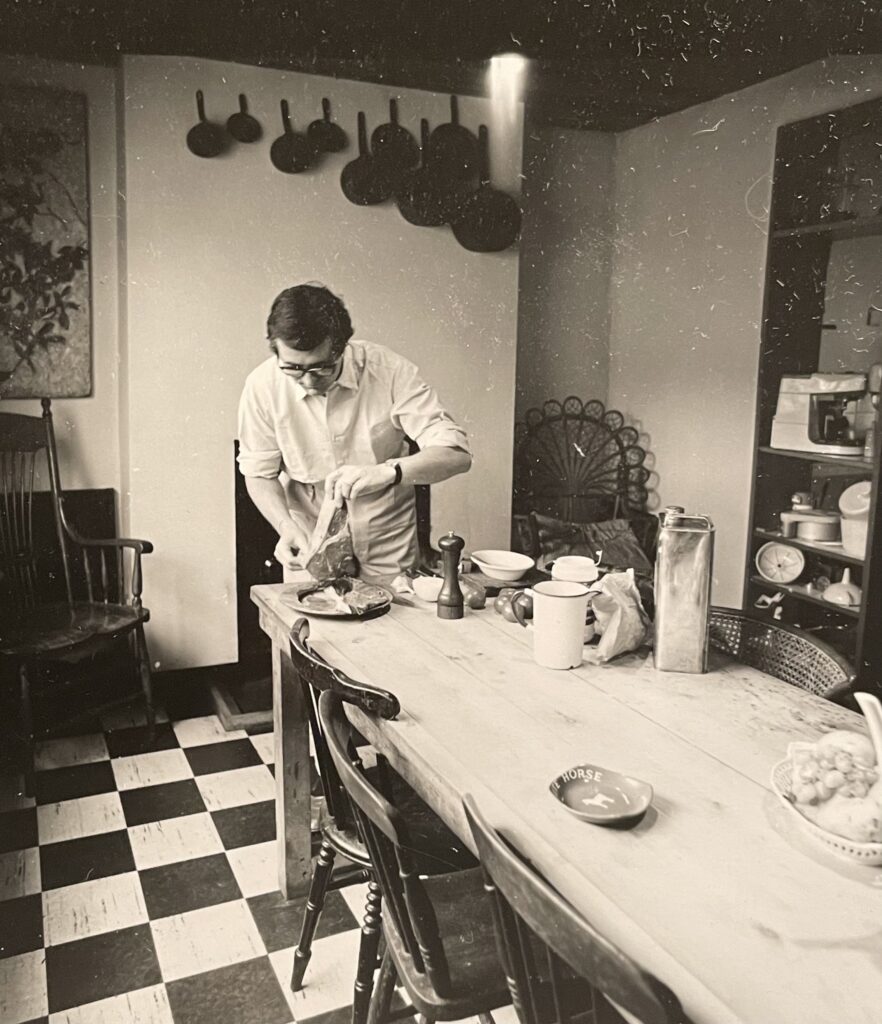 With The Ipcress File's success, Deighton and his family moved from a council flat in Elephant and Castle, to a Georgian house near Borough Road in Southwark. With fame came attention, interviews and magazine articles. For the series "My Favourite Room" Edith Blair, editor at Woman magazine, visited the new Deighton home. When she admired the large wooden table in the kitchen, Deighton explained it had been his father's carpentry workbench. [Woman, undated clipping, c. 1963] In the 1965 Jane Wilson interview for Town magazine, the cover was designed by Hawkey, with photography by Adrian Flowers. Wilson was low-key but efficient in her probing: "Deighton is understandably loth to talk about James Bond. But he did say, quietly, that he thought the books a little childish" With their simple themes of a hero overcoming titanic odds, the Bond stories affirmed individual free-enterprise capitalism, whereas Deighton's novels were more nuanced, more authentic in detail, and Socialist at their core. Wilson understood what drove Deighton: "He says he remembers vividly the first time he heard himself described as an intellectual. He thought about it for days afterwards. He feels a bit bolshy and deprived when confronted with a highly polished Oxbridge product, and can put on quite a production about being working-class whenever it seems appropriate." [Wilson, Town, p. 43]
A later series of images shows the same kitchen dresser from Elephant and Castle, with the same lantern, but this time in the Georgian house near Borough Road. The grimy kitchen floor has been replaced by chequered black and white tiles, gas cooker, stainless steel sink, and ample space for plates and cutlery. A pegboard wall is home to a variety of cooking implements, including mouli, sieves and rolling pin. The lantern on top of the dresser has now been joined by a German WWI helmet, complete with spike.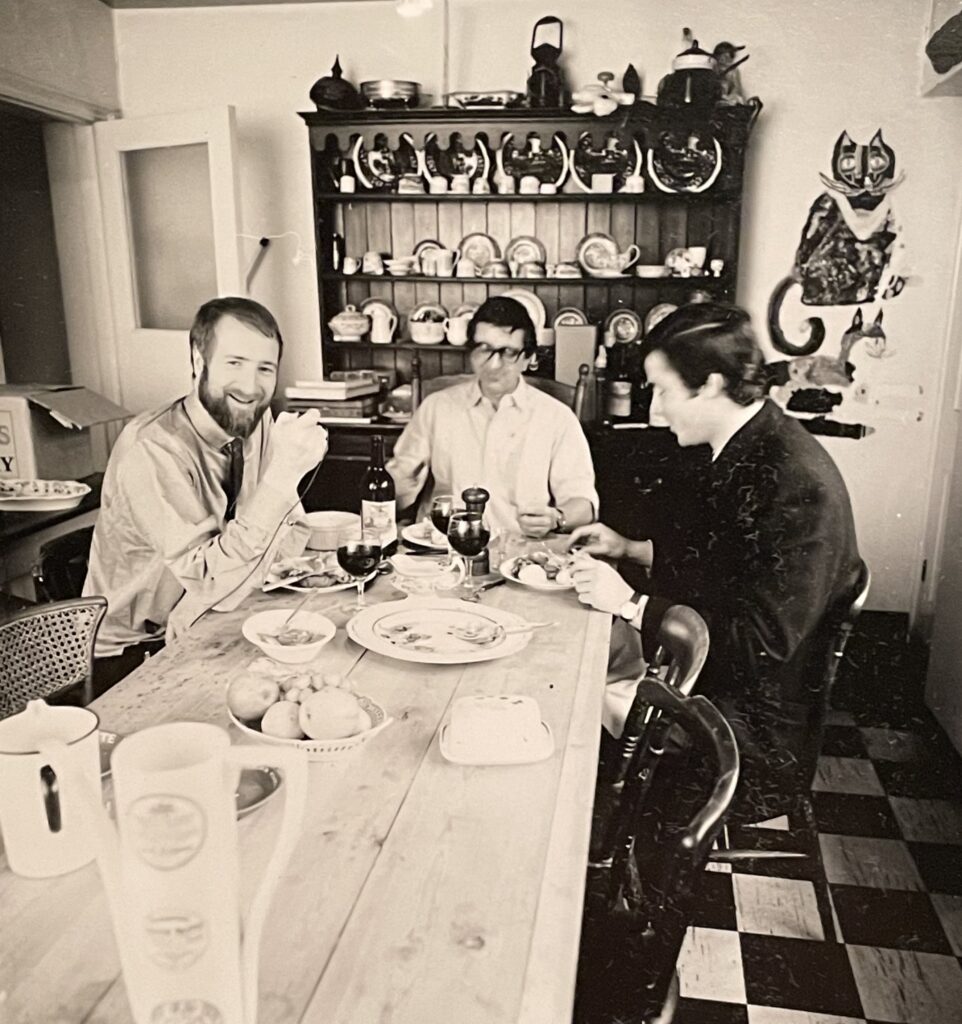 Using a cable release, Flowers sits at the table, dining with Deighton and a friend, taking a series of photographs as the evening progressed. Included in this series are photographs of Deighton working in his office, again an organised confusion, of angle-poise lights, magnetic tapes, shortwave radio, electric typewriter—all attesting to his love of new technology. But, on the wall hangs a medieval carving of a crucified Christ—perhaps another family momento from WWI. A sequence of shots of Deighton again reveal his nervousness in front of the camera, his hand constantly touching his forehead, patting his hair. There are shots of Deighton in his bathroom, wearing vest and trousers, shaving, and standing in front of a bookcase, with a map of downtown San Antonio, Texas, pinned to the wall. The titles on the spines of the books attest to his research interests: The Bridge at Remagen, V-2, The Edge of the Sword, Panzer Leader, Moscow, Stalingrad. Another image by Flowers, of a 'top secret' spy kit, Ministry of Defense Intelligence Unit WOOC (P) The Ipcress File, includes a copy of the novel that brought Deighton fame, along with a playing card, fountain pen, buttons and revolver.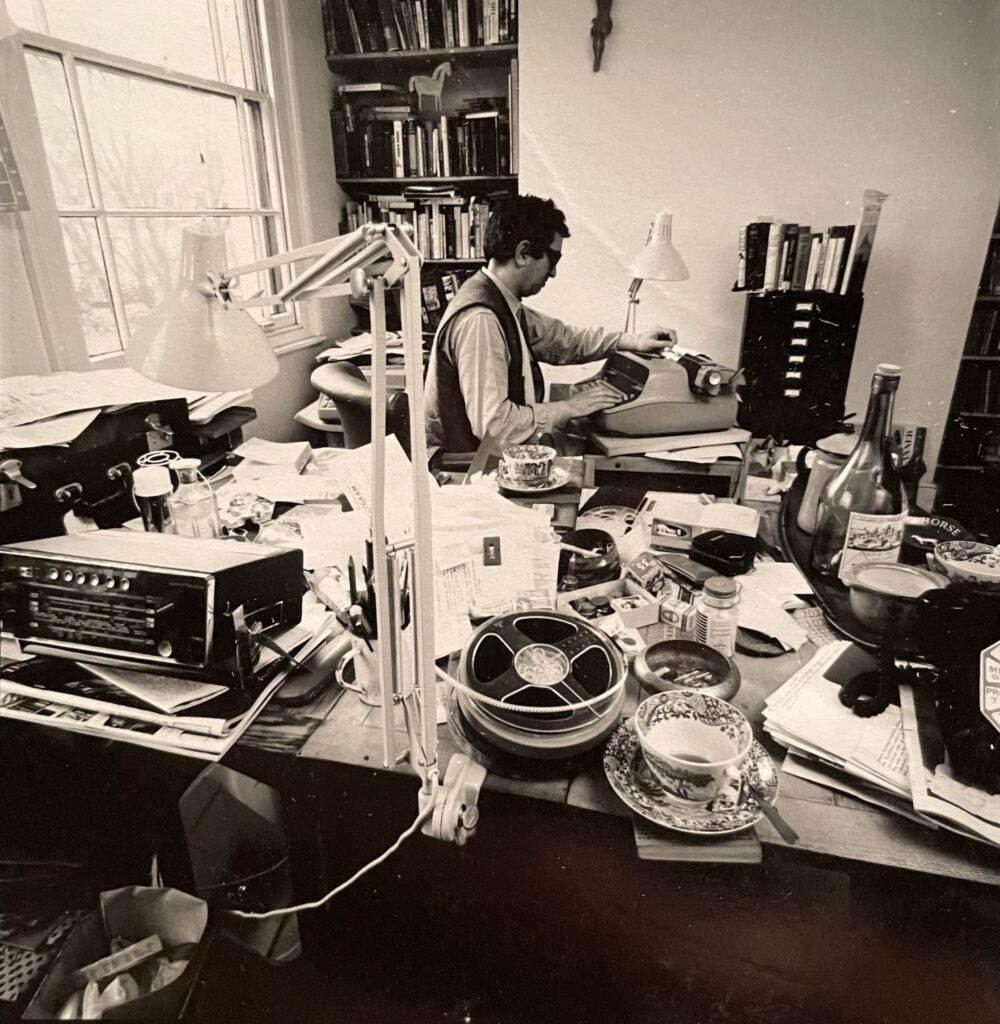 Text: Peter Murray
Editor: Francesca Flowers
All images subject to copyright
Adrian Flowers Archive ©