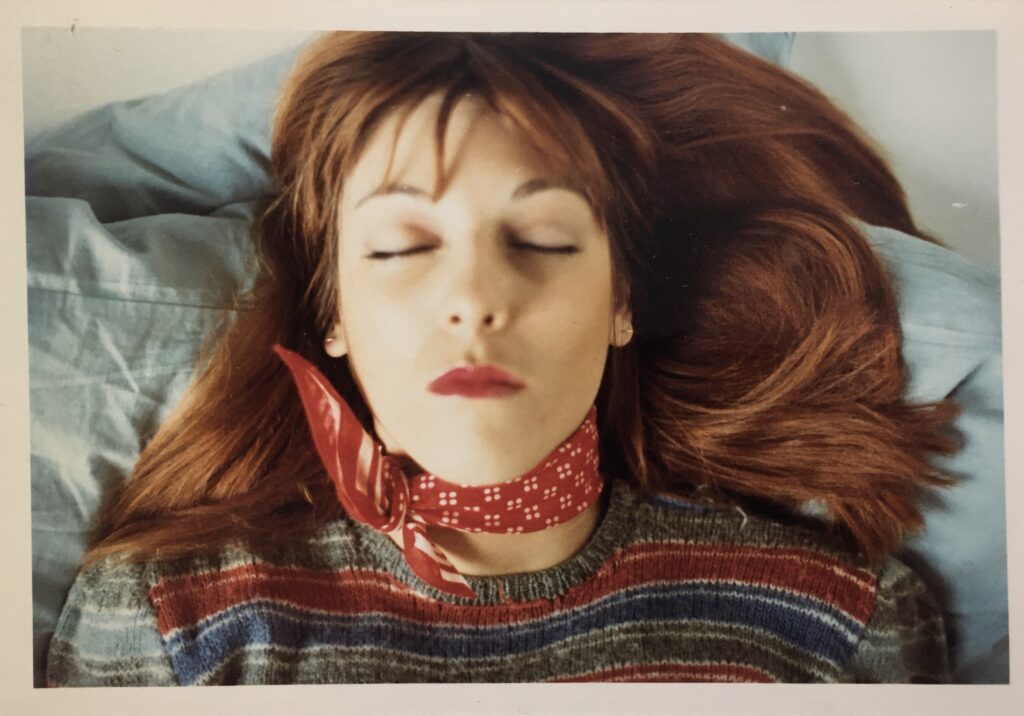 Gala Pinion
One of the most vivacious and lively assistants who worked at the Adrian Flowers studio in the early 1970s was Gala Pinion. Although Gala—her name pronounced 'Gayla'—started work at the studio around 1971, very few people knew that she had recently been engaged to the musician Syd Barrett, one of the founders of Pink Floyd. Gala and Syd were due to be married, but the engagement was called off, as Syd became prone to increasingly serious bouts of schizophrenia, an illness that had seen him leave Pink Floyd, to pursue a solo career as musician and artist.
Gala had met Syd Barrett through her friend Lindsay Corner, who also attended Ely School in Cambridgeshire, where Gala did her O levels in 1966. Shortly afterwards, in 1967, Syd and Corner, (also spelled Korner), had a romantic relationship, but they split up, and he and Gala, who was working at the Chelsea Drug Store, got together. She was attracted by his 'mad attractiveness' recalling that "he had the most extraordinary eyes and when he looked at you, you felt hopelessly caught". In December 1968, Syd and a friend, the artist Duggie Fields, moved a flat in Weatherby Mansions in Earls Court. Not long afterwards, Gala joined them, renting the third room. On the cover of Barrett's solo album A Madcap Laughs, a photograph shows Syd in the flat, with the bare floorboards painted with alternating bands of orange and turquoise blue. Syd's Love Song, released on an EP, was dedicated to her. "I knew a girl and I like her still/She said she knew she would trust me." On Syd's second solo LP, Barrett, produced in 1970 by Dave Gilmour,the song "Wined and Dined" refers to a summer party in Cambridgeshire: "Wined and dined, oh it seemed just like a dream!/Girl was so kind/Kind of love I'd never seen" However, there is sadness in the final lines of the song, "Only last summer, it's not so long ago/Just last summer/now musk winds blow"
After leaving Pink Floyd, Syd had taken up painting again, but his struggles with schizophrenia were not helped by excessive use of cannabis and LSD. Eventually, unable to cope with his sometimes violent behaviour, Gala moved out of the flat. Her room was taken over by a group of younger people, whose adulation of Barrett and pandering to his habits did not help his mental condition. He eventually left the flat, to return to his family home in Cambridge, where his widowed mother did her best to care for him. He moved back to Cambridge also to be close to Gala, who was working at the Joshua Taylor department store in the city. According to his friend Duggie, Syd even dreamed of becoming a doctor, getting married, and living a suburban life with Gala. Syd and Gala announced their engagement on 1st October 1970, finding a ring at the Antiquarius market on King's Road. However, a celebration dinner with family members was not a success, and not long afterwards, with Syd becoming increasingly jealous and paranoid, the engagement was called off.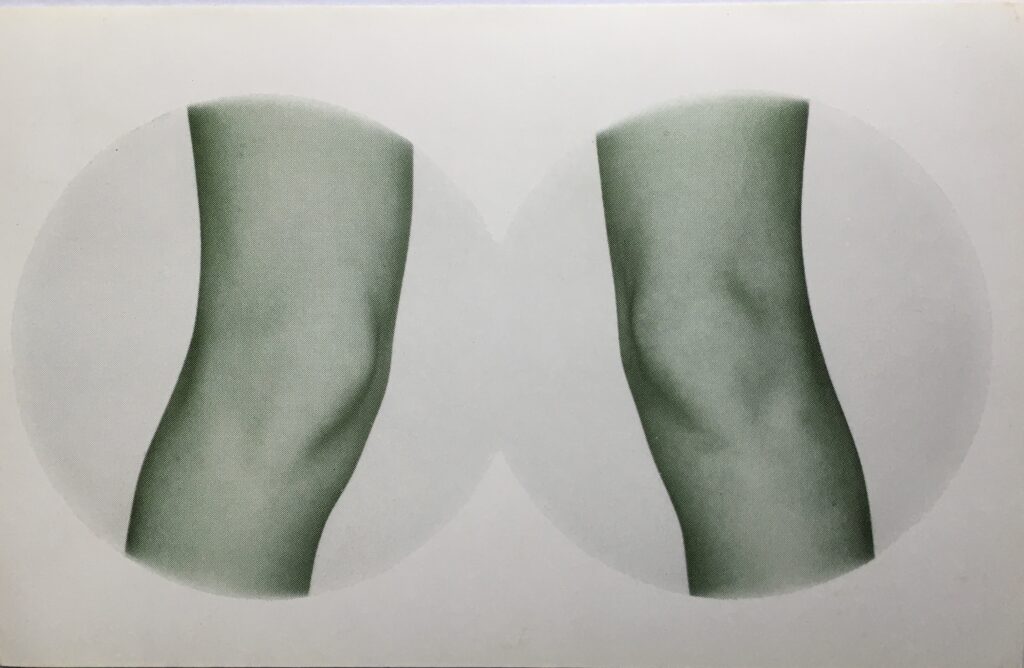 Six years later Gala bumped into Syd in a supermarket on Fulham Road, but his erratic behaviour led her to leave abruptly, never to see him again. After Gala, Syd had no other girlfriends. He lived quietly in Cambridge, and died of diabetes in 2006.

Gala went on to pursue her modelling career and to work at the Adrian Flowers studio. In 1971 she featured in the Michael Joseph photography shoot of a zany party scene for a billboard campaign for Fernet-Branca—the same image was used over two decades later for the LP "Funk Spectrum". She also dated Gene Krell, co-founder of the "Granny Takes a Trip", a boutique popularised by Mick Jagger and the Rolling Stones. While she was at the Flowers Studio, photographer Steve Garforth recalls a work trip to the South of France, where Adrian was to photograph a car for an advertising campaign. Travelling in several vehicles, the team set off from London early one morning, taking the ferry to France and heading for Paris. However, their plan, to camp in the Bois de Boulogne, was upset by torrential rain and abandoning the tents they checked into a nearby hotel. Decorated in Louis XV style, the bedrooms provided an impromptu studio for the team to lark about, photographing each other.

Gala was popular in the AF studio even featuring on a witty postcard for the 'Post Card Show' at Angela Flowers Gallery, Lisle Street, in January 1971. Entitled "Gala's Knees" the postcard was a homage to the 1970 Eric Rohmer film Claire's Knee.* Ever restless, Gala moved on from the Adrian Flowers studio around 1974, going on to pursue her career in New York. A series of lively postcards she wrote to Adrian in the 1970s, from locations such as the Greek islands, Antigua, and New York, give a good idea of her fondness for travel and fun-loving personality.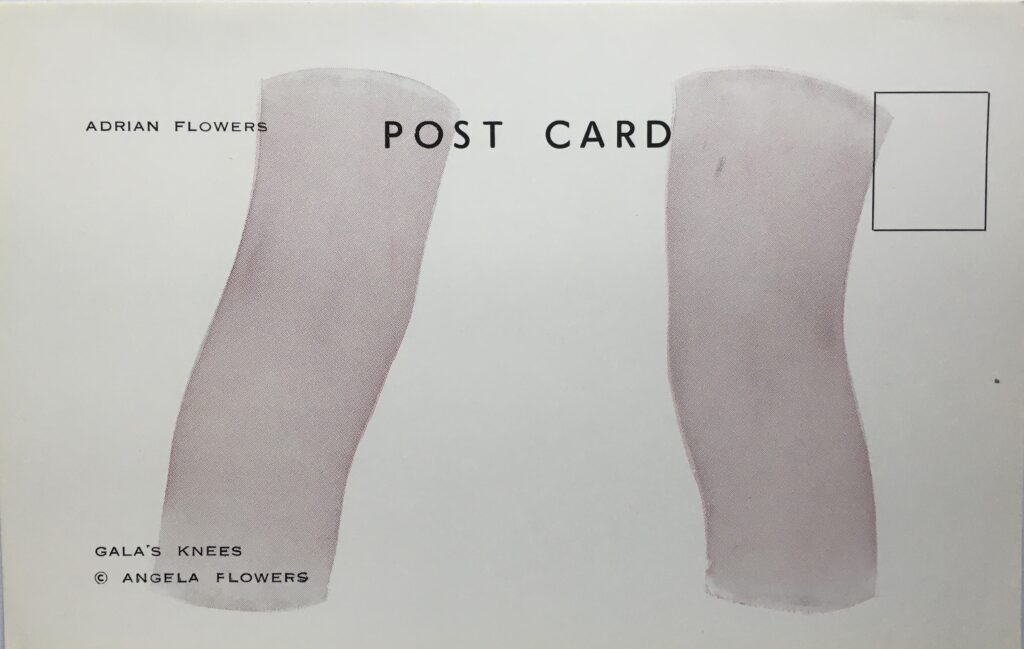 cf: further reference to this shot can be found on a previous post on this blog –
'Adrian Flowers: an appreciation' by Matthew Flowers
Text: Peter Murray
Editor: Francesca Flowers
All photographs subject to copyright
Adrian Flowers Archive ©