1918 – 1964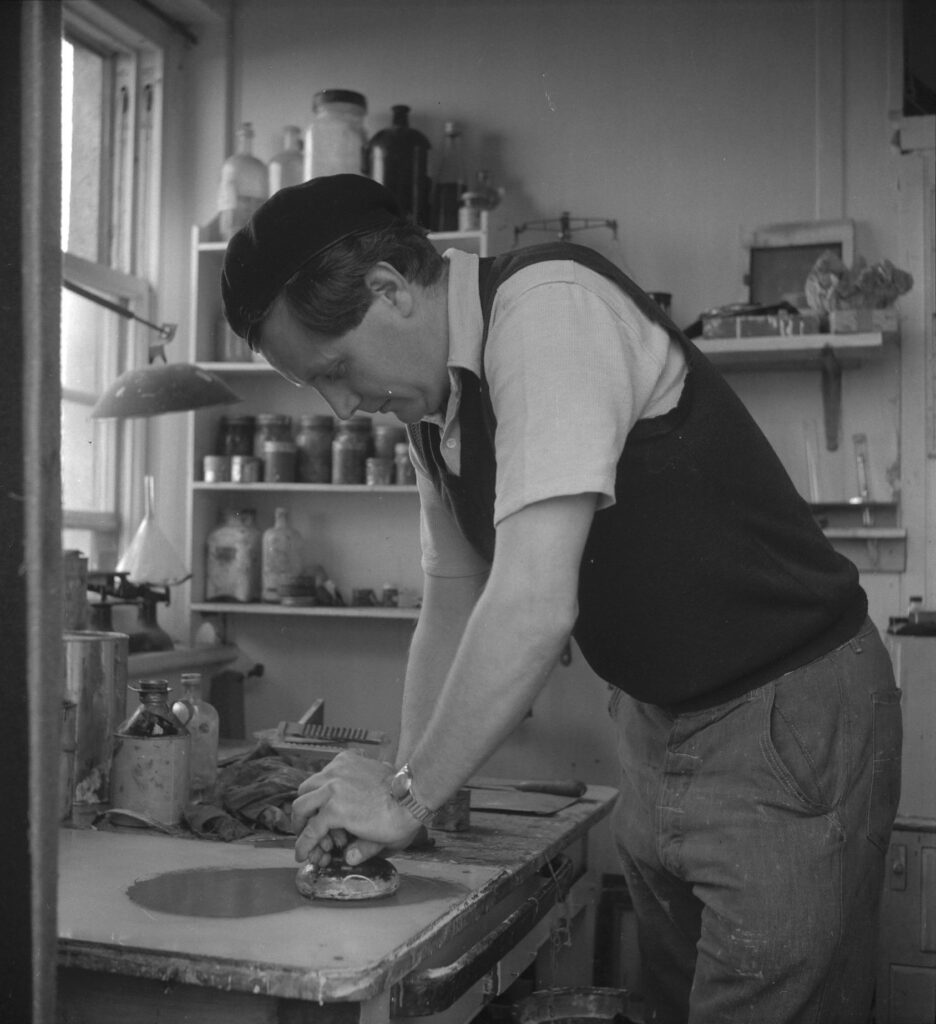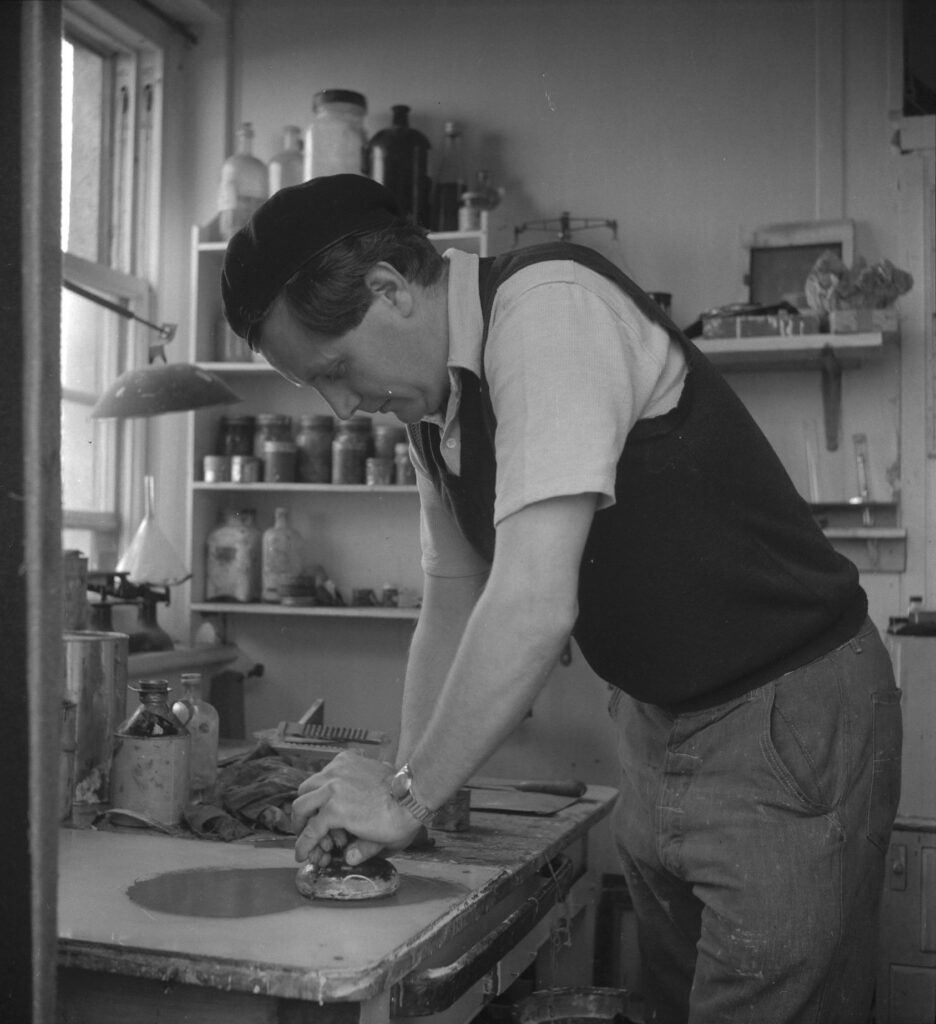 In early August 1954, Adrian and Angela Flowers visited Peter Lanyon in 'The Attic Studio' in St. Ives, to photograph both the artist and his work. The results are preserved in two rolls of 120 black and white negative film held in the Adrian Flowers Archive. In one photograph, wearing his trademark black beret, and dressed in short-sleeved shirt and sleeveless pullover, Lanyon demonstrates the mixing of artists' colours, using a muller (mortar) and glass sheet. Another image shows the artist leaning against a cupboard, with Angela seated on a couch beside him. In the background is a book press and a rotary grindstone. Hanging on the wall is the 1948 painting Headland (Tate collection). A third photograph shows the artist standing before his studio easel, pointing out details in a large painting in progress, Blue Boat and Rainstorm. In another image, Lanyon, smiling, leans against his workbench. On the windowsill stands a construction, while hanging on the wall is an antelope horn—a trophy probably brought back from South Africa, where Lanyon, aged twenty, had visited relatives. Also photographed were the slender columnar 1948 Construction, the 1951 Porthleven Boats, both now in the Tate collection, and Construction for Bojewyan Farms, a painted sculpture of curving forms dating from 1952 and now in a private collection. Another work photographed by Flowers that day include Lanyon's plaster sculpture of a bull, from his Europa series. This was a work in progress, with copper pipes projecting from the animal's head, forming an armature for plaster horns. The concept for the classically-inspired Europa series had taken shape in Anticoli Corrado, the hilltop town east of Rome, where Lanyon and his wife Sheila had stayed for four months the previous year.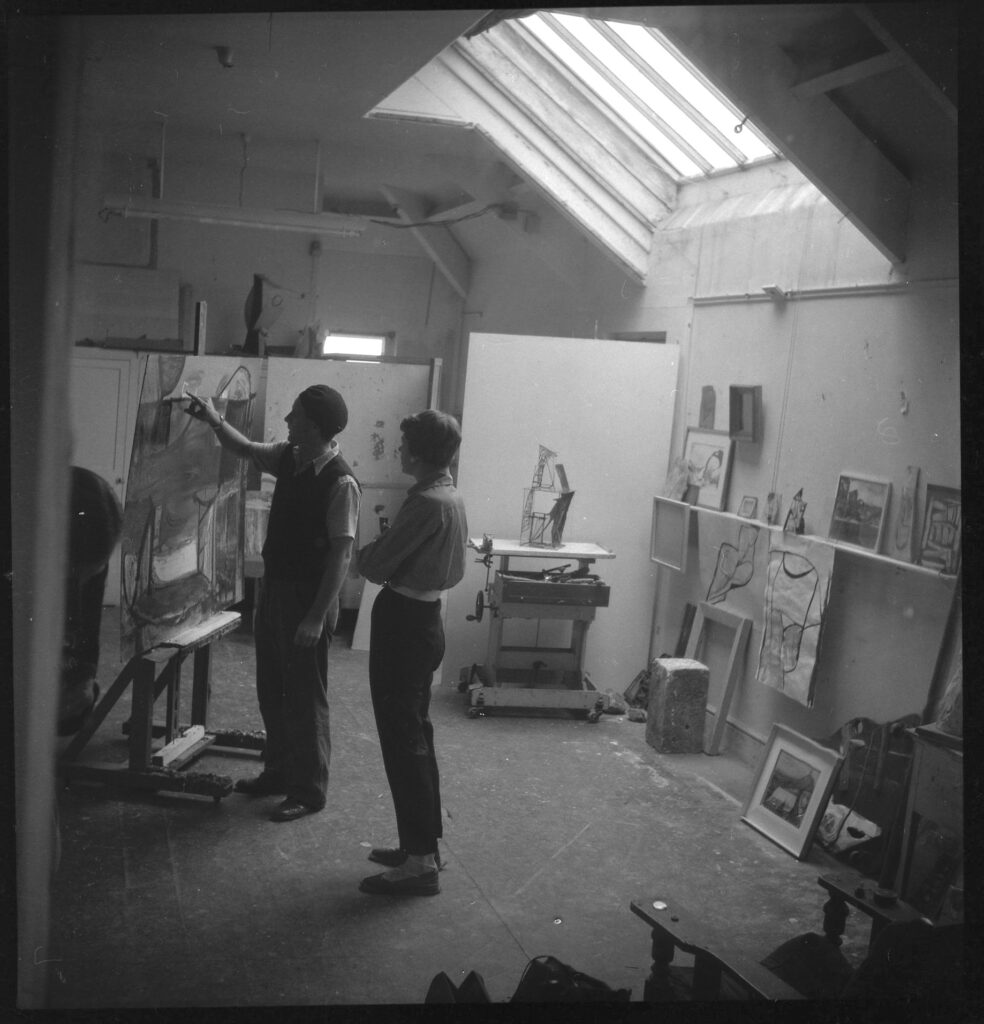 Lanyon was pleased with the photographs, and wrote to Flowers not long afterwards, requesting permission to use a black and white image of one of the works photographed during that session, for a book being produced by Patrick Heron. Lanyon offered to call to Flowers' studio when he was in London on Monday 20th September, to collect the photograph. To assist Flowers in identifying the work [Construction for St. Just (1952, Tate collection)], Lanyon included a sketch in his letter [PL to AF at 44A Dover Street, letter in AF Archive c Sept 1954]. A painted sculpture made from discarded window panes, and inspired by pencil and charcoal sketches of the town that was once the centre of the Cornish tin mining industry, Construction for St. Just reveals how Lanyon was not only inspired by the art of Naum Gabo, but also used his own three-dimensional works to guide the completion of paintings, described them as akin to the scaffolding used to support a building in progress. In 1953, the painting that resulted from this process, St. Just, was shown at the Hanover Gallery in London in Space in Colour, an exhibition selected by Patrick Heron. It is now also in the Tate collection.

Just ten years later, the early death of Lanyon robbed British art of one of its stars. His career had been short but brilliant, his work carrying forward a Romantic vision, in which the energy and zest of Cornwall's coastal landscape was infused with European formalism and Mediterranean colour, resulting in paintings that are in every way equal to the best abstract expressionist work produced in America, but also infused with a sense of history and human endeavour.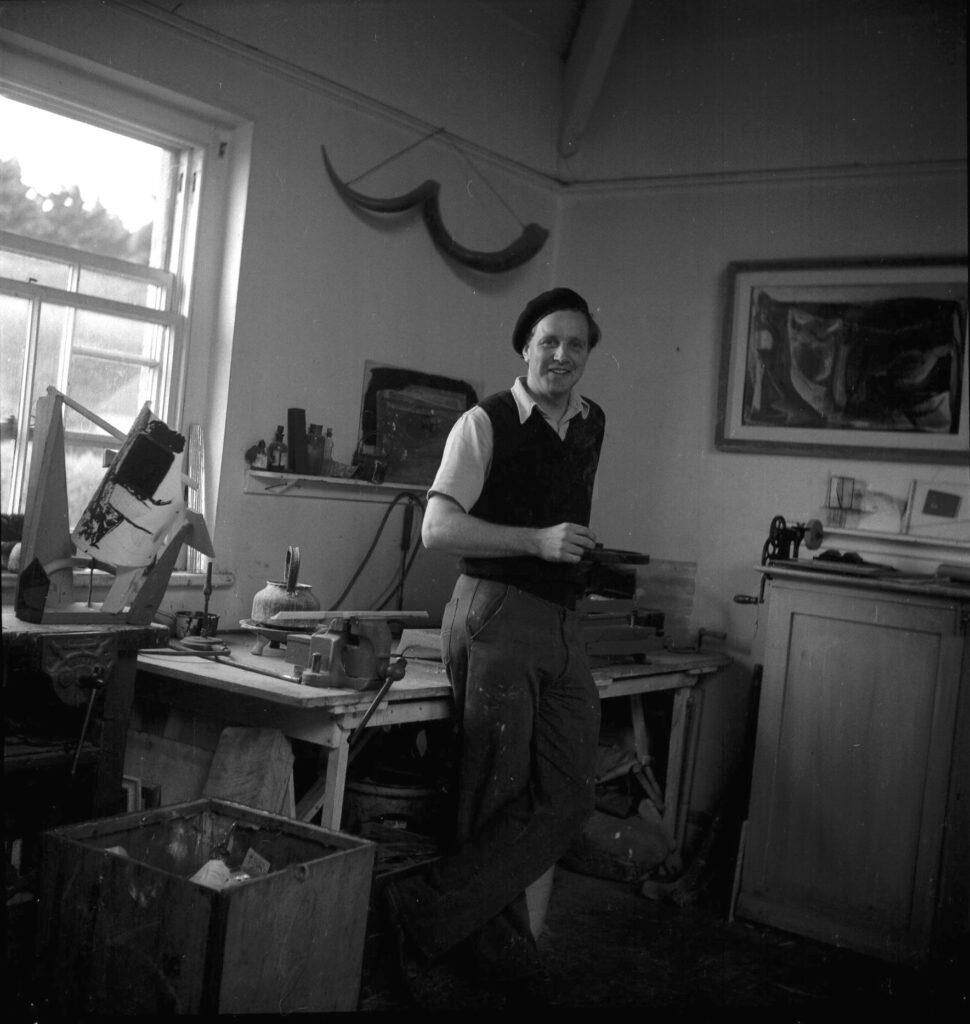 Born into a well-off mining family, and educated at Clifton College in Bristol, Lanyon had taken great pride in his Cornish ancestry. Photography and music were part of his early education, and while still a teenager he took painting lessons with Borlase Smart in St Ives. In 1937 Adrian Stokes advised Lanyon to enroll at the Euston Road School, where Victor Pasmore and Naum Gabo were tutors, and he studied also at the Penzance School of Art. Back in St. Ives, it was inevitable that Lanyon would meet Ben Nicholson and Barbara Hepworth, who had moved to Cornwall in the 1930's, as did Gabo. During WWII, Lanyon served as a flight mechanic with the RAF in North Africa and Palestine. He was also stationed in Southern Italy for two years, during which time he painted murals and gave lectures on art. He ran an art education workshop for servicemen, developing his own austere, psycho-analytical, but optimistic approach to art. In 1946 he married Sheila St John Browne and over the next decade they had six children; their son Andrew also becoming an artist. Lanyon was inspired by Ben Nicholson's approach to abstraction, and during the 1940's made constructions that show the influence of both Nicholson and Gabo. He was a founding member of the Penwith Society of Arts in 1949, and had his first exhibition at the Lefevre Gallery in London that same year. In 1951, as part of the Festival of Britain, the newly-created Arts Council commissioned sixty artists to create large-scale paintings. One of these, Porthleven (British Council collection), an abstract work by Lanyon, is ambitious and hectic, crammed full of allusions to birds, gliders, harbours and quays, the composition surmounted by the clock tower of the Bickton-Smith Institute overlooking the harbour of Porthleven. Lanyon, Heron and Bryan Wynter were also included in the exhibition "Abstract Art", curated by Adrian Heath at the AIA Gallery, and in another important show, British Abstract Art, held at Gimpel Fils, that same year.
In the early 1950's Lanyon taught at Corsham College of Art, where William Scott was also a tutor, and later that decade he, William Redgrave and Terry Frost ran a school, at St. Peter's Loft in St. Ives, with Nancy Wynne-Jones among the artists attending. Lanyon's first New York exhibition was at the Catherine Viviano Gallery in 1957, when he met Mark Rothko, Robert Motherwell and other artists. Over the following years he showed regularly at the Viviano Gallery. There was a demand for Lanyon's work in the US, and in 1962 he painted a mural in the house of Stanley Seeger, in New Jersey. Initially tightly constructed, Lanyon's work during the 1960's became freer and more painterly. He took up gliding so as to appreciate the physical beauty of the Cornish landscape from the air, but died in a gliding accident in 1964, aged just forty-six.
Text: Peter Murray
Editor: Francesca Flowers
All images subject to copyright
Adrian Flowers Archive ©