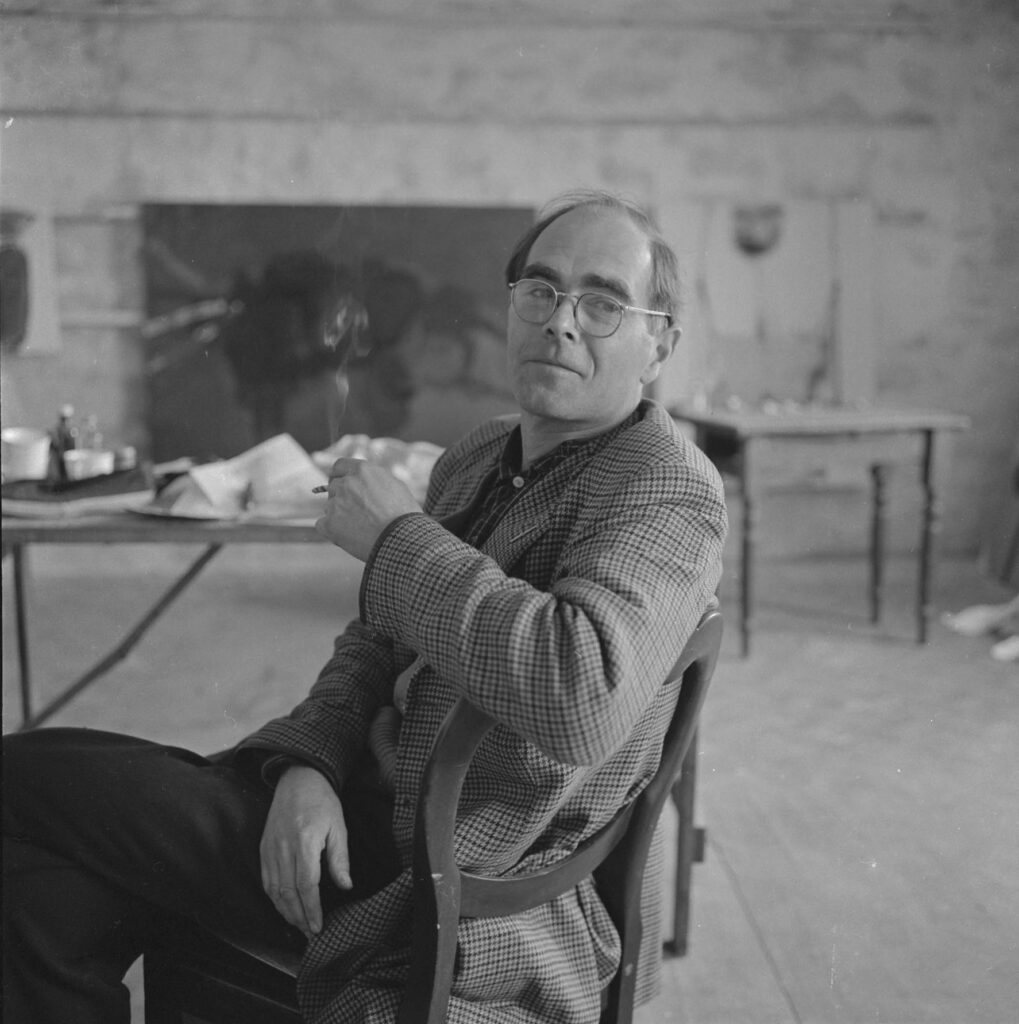 1911 – 1975
Like the journalist Jeffrey Bernard, whose "unwellness" fascinated theatre audiences for many years, the painter Roger Hilton combined a quintessential British cocktail of artistic genius, bleak humour and the gradual disintegration of bodily functions. Hilton's last years are documented in hand-written letters to family and friends, published posthumously as Roger Hilton: Night Letters (Newlyn Orion Gallery 1980), with an introduction by his friend Michael Canney. Direct and uninhibited, these writings—mostly to his wife Rose—reveals a man both sensitive and aware of his shortcomings, and are a surprising pleasure to read. Several could not be published as they are so rude about fellow-artists, critics and friends. Suffering from alcoholism and peripheral neuritis, Hilton resisted efforts to admit him to the Maudsley hospital. His day to day needs were not complicated—crayons and paper for drawing, whiskey, batteries for his radio, cigarettes, and fuel for his lighter. He drew incessantly, rapid sketches capturing a zest for life and reflecting an obsession with the female body, even as his own body began to give up. What Hilton made of his life is also what invests his art with remarkable qualities—"make of your mistakes a strength rather than a weakness"—and he was unsentimental to the end: "And let there be no moaning at the bar, when I set out to sea."
When Adrian and Angela Flowers first visited Hilton's studio in St. Ives, in May 1959, the painter was relatively young, in good health and evidently pleased to have company and conversation. He was not yet resident in Cornwall; this was an exploratory visit. The Flowers had brought their two young sons, Adam and Matthew, while Angela was pregnant, expecting her third son, Daniel. The artist Denis Mitchell was also present. The photographs taken by Adrian [Job No. 3169] show a sparsely-furnished, white-painted studio, with bare wooden floorboards, the walls lined with abstract paintings. The furniture consisted of two tables, a single-bar electric fire and an old car seat, with Hilton seated on a Victorian chair, and Mitchell perched on a beer crate. Balding and wearing glasses, wearing a smart check jacket, Hilton holds court, clearly in good form. However, in little over a decade, he would become a virtual invalid.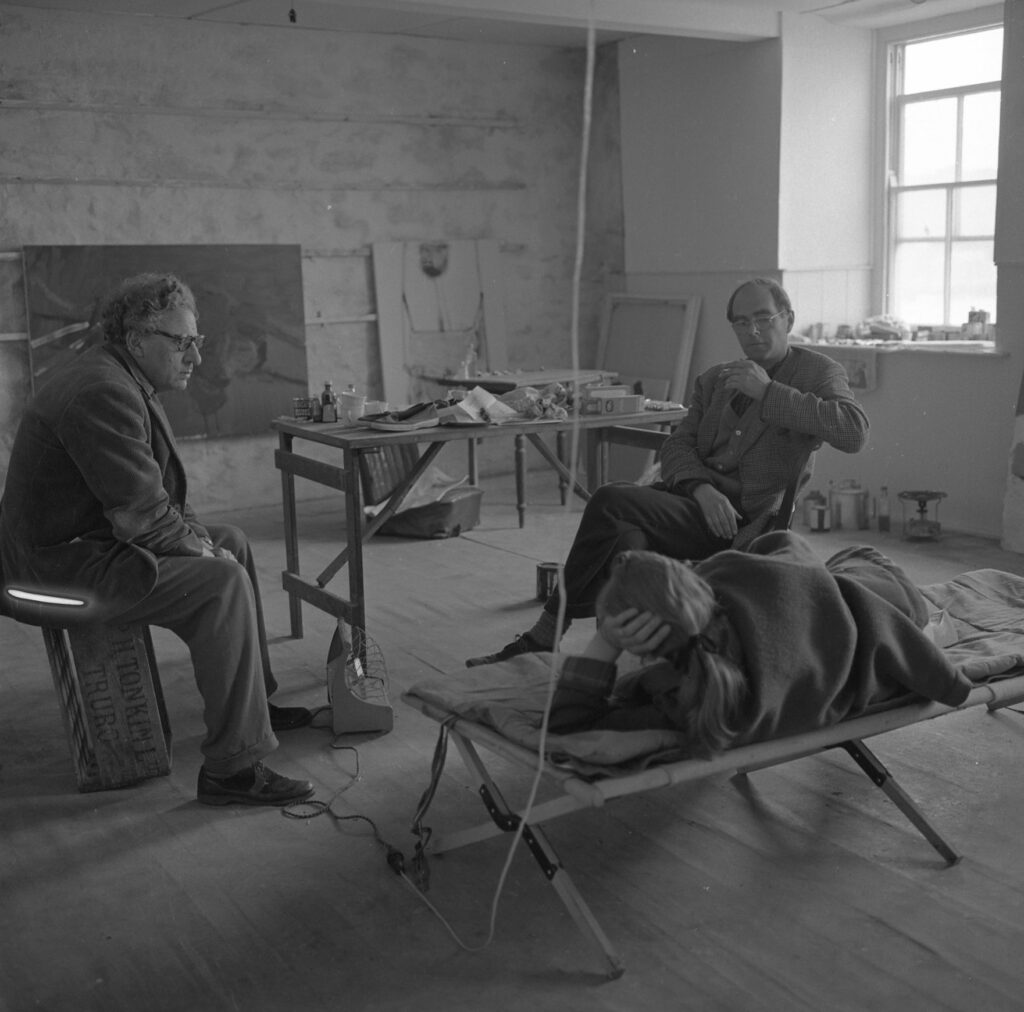 During his lifetime, Hilton drew and painted, not as an enjoyable recreation, but compulsively, with a chaotic sexual frustration often bubbling over in his work. His paintings are the visual equivalent of the poetry of W.S. Graham, one of the many friends with whom he fell out. Graham described Hilton as 'artist of the astringent, the uncharming, the unkitchened', but Hilton's instinctive grasp of the language of abstraction places him in the vanguard of progressive post-war British art. Explanatory labels in galleries and museums may attempt to sanitise Hilton's failings. However, notwithstanding—or perhaps because of—his personality, his art remains compelling and visceral. Almost the first sentence spoken by his widow Rose, in the video documentary of a retrospective exhibition at the Newlyn Gallery, refers to Hilton's depiction of the female body. She explains that he was trying to 'look' at the human figure in a new way, and it was not insulting to women. Nonetheless, after his death, it took her almost a decade to build up confidence to return to painting. When she met Hilton, she had been one of the Royal College's most promising graduates.
Born in Northwood, Middlesex, Hilton came from a middle-class immigrant family. Originally from Hamburg, his father Oscar was a medical doctor, and the author of The Health of the Child; a Manual for Mothers and Nurses (1915), a book which decried the tendency for fashionable mothers to 'sacrifice the welfare of the child to the pleasures of self-indulgence', advocating instead breast-feeding (with precise instructions on caring for breasts and nipples). The book was dedicated to the author's three sons 'John, Roger and Michael'. During WWI, because of anti-German feeling in Britain, the family changed their name from Hildesheim to Hilton. Educated at Bishop's Stortford College, Roger studied art at the Slade School under Henry Tonks, and between 1931 and 1938 spent a total of two years in Paris, during which time he studied at the Ranson college, an offshoot of the Academie Julian, in Montparnasse. He read French literature, and discovered Parisian cuisine and art. During the Second World War Hilton served in the army, afterwards teaching at the Bryanstown School in Dorset, and the Central School of Arts. Although he painted his first abstract work in 1950, by the end of the decade, reflecting his admiration for Matisse, Laurens and Picasso, he had returned to figurative art. Hilton developed his own personal visual language, one based on drawing, where mistakes were not erased but remained very much part of the work. In keeping with one of his early heroes, Piet Mondrian, the colours were simple; blue, red, black, white and green.
It is difficult to dislike the paintings of Hilton. Colourful, energetic and brimming over with vitality, works such as Oy Yoi Yoi are a brave attempt to lift post-war British painting out of an introverted and dull mindset. In spite of his chauvinism and frequent irascibility, it seems to have been difficult to dislike Hilton himself. But he did not make it easy. Pointing to a dog's basket, he informed the painter Wilhelmina Barns-Graham it was where women belonged. Barns-Graham was fond of him nonetheless, and appreciated the originality and honesty of his art. In 1965, having divorced his first wife Ruth David, Hilton married Rose Phipps, a woman twenty years his junior. The couple settled in Cornwall and had two children, Bo and Fergus. Hilton enjoyed the company of fellow St. Ives artists, particularly Tony and Jane O'Malley. An alcoholic in the last decades of his life, he was fortunate to live in a part of England where his drinking was tolerated, and where he could also exercise his considerable charm, chatting happily with visitors. Rural life was not uneventful however, and after several episodes of drink driving, Hilton found himself locked up in Exeter goal—the experience reminding him of years he had spent as a prisoner in a German POW camp, having been captured during the raid on Dieppe. As he inched towards death, Hilton's art became ever more direct and instinctive. His late drawings, including lively female nudes, are among his best work. He died at Botallack, near St. Just, in 1975.
Text: Peter Murray
Editor: Francesca Flowers
All images subject to copyright.
Adrian Flowers Archive ©