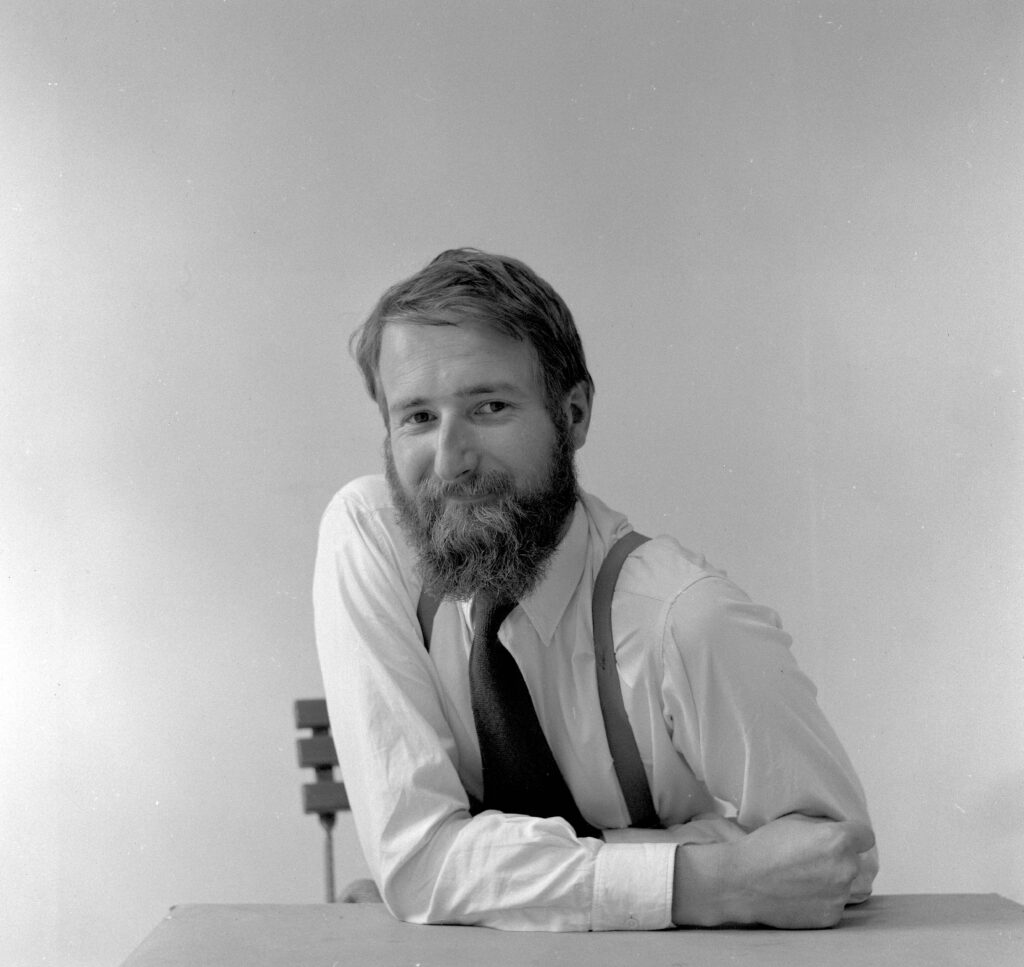 Born in Southsea, Portsmouth, on 11th July 1926, Adrian Flowers went to school in Southampton, before attending Sherborne School. His father Edward was a Lieut Colonel in the Indian Army in WWI, and latterly a businessman, while his mother Kathleen (née West), a violinist and a Christian Scientist, was the daughter of well-known photographer William West. Based in Portsmouth, the firm of George West & Sons had been founded by her great-grandfather. Although he had initially thought to take up medicine, this family background in commercial photography led Adrian to study at the Institute of British Photography. Graduating in 1950, he opened his first studio in Dover Street, before moving to Tite Street in Chelsea. He is best remembered for advertising photography for products such as Benson and Hedges, and also for his portrait work. Assistants who started their careers at the Flowers studio included Terence Donovan, Chris Killip, Neil Selkirk and Brian Duffy. Some of Flowers' early work was for the magazine Girl, where he photographed film stars—including Dirk Bogarde, Deborah Kerr and Norman Wisdom—meeting fans. His later portrait subjects included Twiggy, Peter Sellers, Paul and Linda McCartney, Michael Caine, Alec Guinness and Vanessa Redgrave
Visiting Cornwall in 1954, with his wife Angela, Flowers was introduced to the artists living and working in St. Ives at that time. His photographs of these artists and their work consolidated his appreciation of the world of fine art but he had to make a living through commercial photography, which came mainly from advertising agencies.
Working for advertising agencies appealed to Flowers' sense of organisation, where his freedom in translating concepts into images was relatively restricted. He liked studio work, because it allowed him to spend time to set up and think through all aspects of the project, and have control over the conditions that could affect the final image. Rather than taking hundreds of photographs, from which one would be selected that reflected his intention, he preferred to spend time getting things right, then taking just a few exposures to give the result he needed. Although his creative imagination was restricted, in realising the concepts that came to him from commissioning agencies, he did not find these particularly irksome. He enjoyed setting up and photographing objects, investing the images with a playful and surreal sensibility. This surrealist quality is also evident in his more personal, creative work, for example in a series of circular photographs, of round objects. His visual sensibility was to an extent influenced by French photographer and painter Guy Bourdin. Like Bourdin, Flowers was a perfectionist, leaving nothing to chance, and delighting in investing his photographs with a sense of drama. As advertising became more sophisticated, he was able to create images that spoke to the subconscious desires, fears and attractions. Conventional perspectives were disrupted, objects and interiors cropped, narratives suggested, rather than explicitly stated, and when colour was used, it was saturated.
For the Benson and Hedges campaign, commissioned by CDP (Collett Dickenson and Pearce), Flowers spent six months testing images before proceeding with final photography, using an 10 x 8 camera, rather than his usual Sinar 4 x 5. With the elaborate settings and décor, his output for the Benson and Hedges campaign amounted to just one finished photograph a year. He worked with designers and decorators, making sketches and taking Polaroid photos of each stage of the work. A quintessential sense of English middle-class values informs these campaigns, with carpets, wallpaper and ornaments carefully selected to resonate with readers and consumers. Although other photographers also worked on the Benson and Hedges campaign, the photographs best remembered are those taken by Flowers. In another campaign, for Le Creuset cookware, Flowers again photographed this everyday product in unusual, even austere, settings, using accentuated perspectives. This forcing of perspective can be seen at its most extreme in his Kit-Kat photographs. Flowers' interest in the world of fine art is evident in the Swiss watch campaign, where images of watches are being prepared for exhibition in a contemporary art gallery. In his work for Martell cognac, the narrative is that of an art collector, his wife and daughter visiting the studio of a famous artist. The daughter is attracted to the artist, but does not know that the artist's lover, the model in his paintings, is hiding behind a screen. In contrast with these product commissions, which involved careful staging, his work with live models frequently resulted in lively and informal images—not least due to the high cost of modelling fees and the need to work at speed.
With the advent of digital photography and the decline of the analogue form, Adrian Flowers retired from commercial work in 1990 and closed his studio. Adrian and Angela divorced by mutual consent in 1973. He re-married, to Françoise Lina in 1985. He moved to France where he continued to work on other projects. He died, aged 89, in France on 18th May 2016.